CASALE DEL GIGLIO
«As a child and young teenager the fields and lanes of the family estate, Casale del Giglio, were nothing more to Antonio Santarelli than a place where he could spend carefree weekends and indulge his budding passion for motorbike riding; but all that changed when he joined his father Dino in the family business. By then, a shrewd twenty-five year old, he knew instinctively that their unconventional land in the Agro Pontino valley, some 50 kms south of Rome, offered a unique opportunity to attempt something no-one had ever attempted before.
The total lack of any vine growing tradition in the area meant that Antonio and his father could give free rein to their pioneering ideas. Some of the most famous ampelographers and university researchers of the day were convinced by these ideas and were inspired to join them in a research project which was launched in 1985 with the planting of close to 60 different experimental
vines in Casale del Giglio's soil.
No scheme as bold and daring had ever been approached in such a scientific way before and Casale del Giglio's young winemaker, Paolo Tiefenthaler, was to become its leading light. The believers in the endeavour were amply rewarded for their audacity however when they achieved their first significant results from the red grape varieties Syrah and Petit Verdot and from whites such as Sauvignon, Viognier and Petit Manseng. These varieties have given rise to monovarietal wines and to blends, all of which offer excellent value for money.
The estate's flagship wine is the rich, red Mater Matuta (Syrah with a touch of Petit Verdot); a proud thoroughbred, fullbodied,
silky and seductive on the palate with aromas of woodland fruits, coffee beans and spice.
Aphrodisium, a sweet golden-yellow late harvest wine, is a blend of Petit Manseng, Viognier, Greco and Fiano.»*
* From an article by Luciano di Lello in 'Guide to the Restaurants of Rome' published in the daily newspaper 'LA REPUBBLICA'
Casale del Giglio was founded in 1967 by Dr. Berardino Santarelli, a native of the Appenine hill town of Amatrice.
The estate lies between the towns of Aprilia and Latina in the Agro Pontino valley, some 50 kms. south of Rome. Unlike other parts of the Latium region, or other regions of Italy, this territory was still uncharted in viticultural terms when Berardino Santarelli and his son Antonio launched their research project in 1985.
Endorsed by the Agricultural Department of Latium's Regional Government, the project involved researchers of international standing, many of whom still contribute to Casale del Giglio's research today; Prof. Attilio Scienza from Milan University's 'Istituto di Coltivazioni Arboree', Prof. Angelo Costacurta from the 'Istituto Sperimentale per la Viticoltura di Conegliano' (Treviso) and Prof. Fulvio Mattivi from the Research & Innovation Centre at the 'Fondazione Edmund Mach' – 'Istituto Agrario Provinciale San Michele all'Adige' (Trento) – where Casale del Giglio's winemaker, Paolo Tiefenthaler, was trained.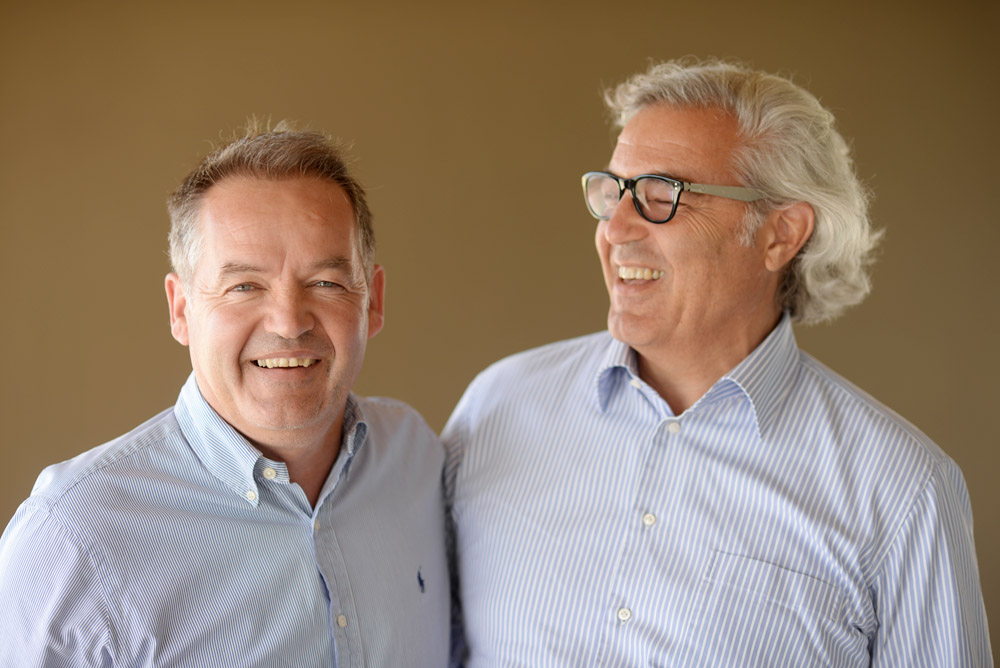 Paolo Tiefenthaler and Antonio Santarelli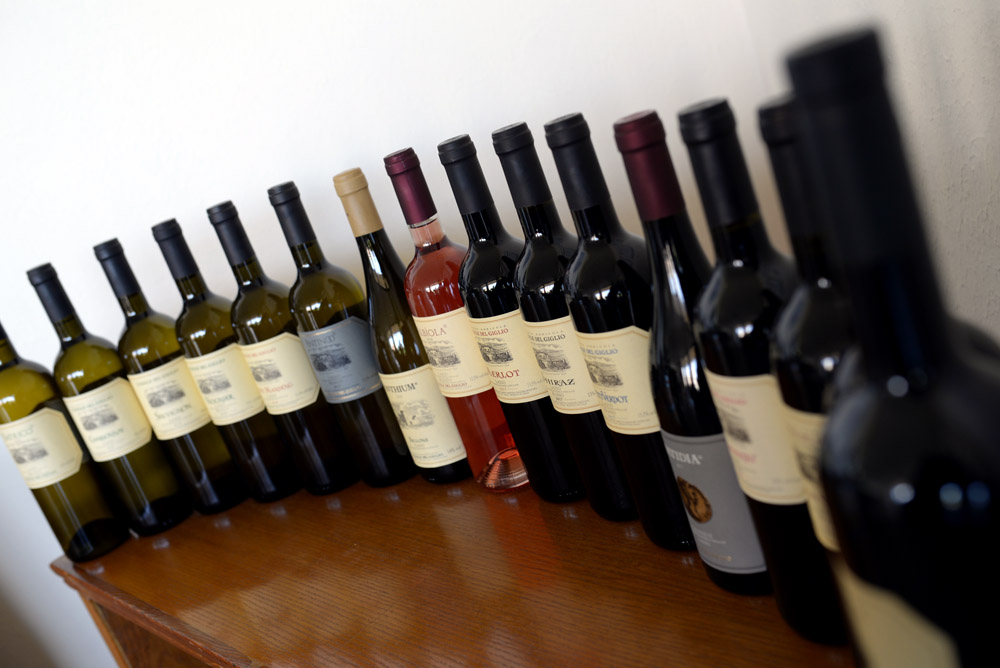 Since the project aimed at identifying and maximising the territory's potential for quality viticulture, useful comparisons were made with processes adopted in Bordeaux, California and Australia, wine producing areas of the world influenced, like the Agro Pontino valley, by a maritime climate.
Casale del Giglio subscribes to the philosophy that "the future of Italian viticulture relies not only on consolidating the image of its traditional wine producing zones but on its ability to produce top quality wines at favourable prices in areas whose potential is still relatively unexplored."
As a result of Casale del Giglio's research, the European Community authorized the cultivation of 'new recommended varieties' such as Chardonnay, Sauvignon, Syrah, Petit Verdot and Cabernet Sauvignon in the province of Latina (from 1990) while other varieties were authorized later.
Casale del Giglio has converted its 180 hectares of vineyard to the cordon trained system, electing to plant those grape varieties which adapt well to the territory and produce quality wines.
Casale del Giglio currently offers a range of twentytwo products – seven white wines, one rosé, seven reds, one late harvest, three grappas and an extra virgin olive oil.